Activities
It's time to play...
On-site
We have plenty of things to do right on site. One of the most popular is, of course, fishing. There is a large variety of fish that reside in the Chippewa River, including muskies, bass, northern, walleyes, and panfish.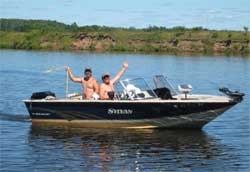 Other campground activities include:
Campground socials
Children's playground
Fire pits
Volleyball
Yard games

*Note: fishing and boating equipment not provided
Off-site
The local area provides a variety of activities and attractions. Here is a sampling of sights and sounds in the area!
Cornell (5 miles):
Grocery, hardware, sporting stores
Gas stations
Bad Habit Car Club Show (August)
Cornell Community Fair (June)
Gospel Bluegrass Festival (July)
Old Abe State Trail (biking, ATV, hiking)
The Stacker, the world's only pulpwood stacker
Cornell Area Events
Jim Falls (5 miles):
Eagle Valley Speedway
Sturgeon Fest (Labor Day weekend)
Cadott (15 miles):
Cadott Area Historical Museum
Cadott Nabor Days (July)
Country & Rock Fest music festivals
Whispering Pines Golf Course
Cadott Area Events
Chippewa Falls (15 miles):
Bernard F. Willi Outdoor Pool
Chippewa Falls Museum Of Industry And Technology
Heyde Center for the Arts
Irvine Park
Lake Wissota
Leinenkugel Brewing Company
Movie Theaters
Northern Wisconsin State Fair (July)
Various golf courses
Eau Claire (30 miles):
Action City and Chaos Waterpark
Chippewa Valley Museum-Carson Park Eau Claire
Country Jam
Eau Claire Children's Museum
Eau Claire Cavaliers, Express (baseball)
Eau Claire Crush, Chippewa Valley Predators (football)
Fairfax Outdoor Pool
Movie Theaters
Oakwood Mall
Eau Claire Regional Arts Theatre
Various golf courses
©Crosby's on the Chippewa LLC 2011