Campground Information
Our campground includes 44 seasonal-only campsites spread over 5 acres of land, with each site being on or having a great view of the river. Each site includes electricity (metered twice yearly),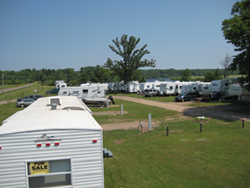 water and sewage services. Porta-potties and dumpsters are also available on site. Thirty of the 44 sites are directly on the river, while the other 14 have a great view of the Chippewa. Access to the river is available at the campground.
Within 5 miles you will find Cornell, a small town which hosts a grocery, hardware store, gas stations and restaurants. Also, some docks are available on the campground. Please call for any questions or reservations. Our phone numbers are available here.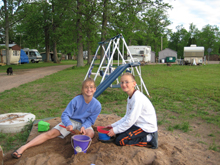 For the kids we include a playground on-site. It has a slide, jungle gym, swings, sandbox and toys for small children.  Our lending shed is available for all ages.  It has games, books and other items for our campers to borrow and bring back when they are done.
Regulations
We will only accept self-contained camping units; we will not allow non self-contained camping units to stay the season. Electricity costs are not included in the payment; electricity is metered and read twice a year to determine the cost. Pets are allowed on the campground; please contact us for contract stipulations.
Pricing
Due to price changes, please call for current pricing information.

©Crosby's on the Chippewa LLC 2011